ApexSQL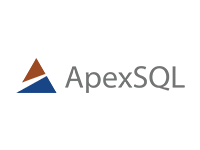 ApexSQL is a software development company that creates high-quality commercial tools for database developers and admins using Microsoft technologies. Since 2005, we've been growing our company into an industry recognized leader with over 10,000 customers worldwide.
At ApexSQL, everyone works a flexible schedule, from a location of their choice. We have no bosses. We share all success and failures.
If you enjoy personal freedom and flexibility and can manage it effectively to produce awesome results, we'd love to hear from you.
Find out more about everyday work at ApexSQL. Learn more
Web site: www.apexsql.com
DOGAĐAJI
U subotu, 30. novembra, od 10:00, pridružite nam se na besplatnom seminaru "Upravljanje kvalitetom: Kako balansirati brz rast i kvalitet... Više »

U subotu, 23. novembra, od 9:30, pridružite nam se na besplatnom seminaru "Freelancing – say bye bye to traditional 8–16 work". Seminar... Više »

U subotu, 16. novembra, od 10:00, pridružite nam se na besplatnom seminaru "Digitalizacija poslovanja, trend ili opstanak?". Tema... Više »
Firma sa sjedištem u Sarajevu, uvoznik i distributer renomiranih Europskih proizvođača u sklopu plana razvoja i unapređe... Više »

WELCOME TO BRAINSTORM SOLUTIONS Your only stop for complete online success. SEARCH ENGINE OPTIMIZATION Technical, on-... Više »

H.art postoji od 2006. godine sa namerom da interdisciplinarnim pristupom da privredi i pojedincu jedinstveni doprinos. ... Više »
Savez studenata Fakulteta organizacionih nauka, pod pokroviteljstvom Fakulteta organizacionih nauka i kompanije MTS – Te... Više »

Od ideja koje pružaju zabavu, kao što je escape room u kutiji, do ozbiljnijih, kao što je uređaj za komuniciranje među e... Više »

Kompanija Metalac raspisala je konkurs "Zakuvaj svoj dizajn" na sajtu metalackonkurs.rs, želeći da dobije nove predloge ... Više »
Citat dana
Obrazovanje je jednostavno duša zajednice kada se prenosi sa generacije na generaciju.
Žilbert K. Čelsterton