Apps Solution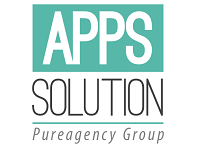 AppsSolution is a French based company (part of PureAgency group) with development center in Belgrade.

We are specialized in every aspect of mobile application development which includes: iOS and Android application development, Backend development with strong focus on mobile application context, State of the art designing, prototyping and UX, Mobile application SEO and marketing, Mobile CRM, RTB and campaigns.
Our experience with large number of biggest European brands give us a competitive advantage when it comes to application development and thus making every project a new challenge for us.
DOGAĐAJI
U subotu, 11. jula, od 10 časova, pridružite nam se na besplatnom vebinaru "Napredne prodajne vještine: Tajne komuniciranja i savladavanja... Više »

U utorak, 7. jula, od 17 časova, pridružite nam se na besplatnom seminaru "Kontroling i finansijski izvještaji". Svi oni koji nisu... Više »

U subotu, 20. juna, od 11 časova, pridružite nam se na besplatnom seminaru "Kako postati dobar copywriter". Da li ste se oduvek na... Više »
Granity Ventures focuses on developing new technology so that people can build and create more. Unlocking peoples potent... Više »

Marketinska agencija Poliplan 1to1 osnovana 2006. godine postala je lider i to ne samo među BTL agencijama već kao agenc... Više »

Joule Performance (Littlebit group) je uspješna kompanija za proizvodnju i prodaju hardverskih komponenti i gotovih racu... Više »
Social Impact Award je takmičenje ideja i edukativni program za mlade koji razvija i implementira inovativna rešenja za ... Više »

Privredni forum mladih u saradnji sa Beogradskom otvorenom školom i Institutom za razvoj i inovacije, a u okviru projekt... Više »

Kandidatima za posao na raspolaganju je beskontaktni sistem procesa selekcije i zapošljavanja U svetlu izmena načina pos... Više »
Citat dana
Samo čovek koji ništa ne uči, nikada ne greši.
Teodor Ruzvelt