DevLogic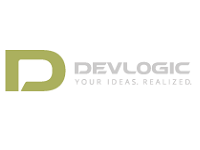 We are a product design and development studio working with ambitious, world class entrepreneurs as well as innovative Fortune 500 companies. Our solutions span from machine learning systems, marketplaces, advanced mobile applications, e-commerce platforms, video processing engines and wearable.
We work with companies which are making a difference on a global scale by creating new products and services faster and cheaper based on the latest technologies and startup methodologies. Our company has offices in Sarajevo, Amsterdam and San Francisco, where majority of our clients is concentrated.
Web site: www.devlogic.eu
DOGAĐAJI
U subotu, 8. aprila, od 10:00, pridružite nam se na besplatnom seminaru "Freelance – Land your first job!". Na ovom seminaru polaznici... Više »

BESPLATAN SEMINAR: OD PROGRAMERA, PREKO MENADŽERA DO LIDERA U subotu, 25. marta, od 11:00, pridružite nam se na besplatnom seminaru... Više »

U subotu, 11. marta, od 10:00, pridružite nam se na besplatnom događaju "Neka 2023. bude izvanredna – izazov za najuspješniju godinu... Više »
IPlumVPN B.V. Mi u kompaniji IPlumVPN B.V. težimo da omogućimo ljudima i preduzećima da ostvare svoj pun potencijal t... Više »

Wiener Stadtische osiguranje a.d.o. Wiener Städtische osiguranje a.d.o. Beograd je član Vienna Insurance Group-e čiji p... Više »

ZIRA je produktna IT kompanija u BiH, globalno priznata u okviru telekom industrije. Kompanija posluje sa preko 50 telek... Više »
Brzi intervjui sa najatraktivnijim poslodavcima u regionu na sajmu zapošljavanja LINK2job Drage koleginice i kolege, po... Više »

U subotu, 1. 10. 2022. godine, u organizaciji Centra za razvoj karijere, održano je finale Case Study Competitiona, jedi... Više »

Savez studenata Fakulteta organizacionih nauka, pod pokroviteljstvom Fakulteta organizacionih nauka, jedanaesti put po r... Više »
Citat dana
Education is what survives when what has been learned has been forgotten. Obrazvoanje je ono što preživi kada se zaboravi ono što je naučeno.
B. F. Skiner
Ne propustite obaveštenje o besplatnim seminarima!
Unesite Vaš e-mail i budite obavešteni o besplatnim seminarima, radionicama i drugim događajima koji vam mogu pomoći da nađete posao i razvijete svoju karijeru!