JT International a.d. Senta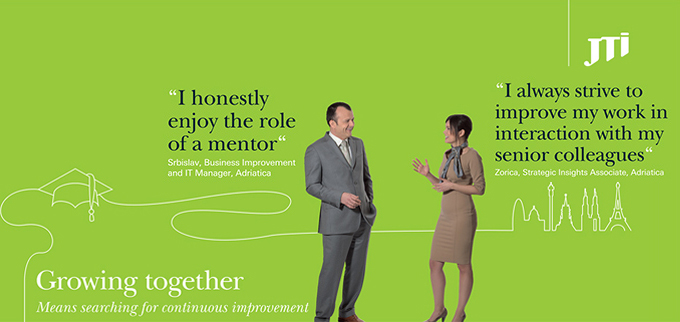 JTI is a company where excellence is the benchmark for everything we do. So we constantly strive to improve the way we perform our jobs. We challenge, encourage and inspire each other. We empower our managers to coach and develop their people so they can realize their full potential. And by growing talent, we grow business – allowing us to meet the challenges of today and tomorrow.

JT International a.d. Senta is a member of the Japan Tobacco International Group of Companies (JTI), a leading international tobacco product manufacturer in the world. Our headquarters are in Geneva, Switzerland. We are a truly international and multicultural company, employing over 27,000 people across 95 offices, with 25 factories, 6 Research and Development centers and 5 tobacco processing facilities worldwide. We operate in more than 120 countries around the world and combine the multicultural diversity of over 90 nationalities.

JTI's office in Serbia is located in its capital - Belgrade, whereas tobacco factory is placed in Senta – JT International a.d. Senta.
Until now, JTI has invested a total of 140 million dollars in Serbia which is the first and the largest direct Japanese investment in Serbia.
JTI employs over 300 people in Serbia and cooperates with cca 380 tobacco growers and 200 seasonal workers. With all this in mind, it can be stated that JTI is a true example of a successful foreign investor in Serbia.
We are always interested in hearing from experienced professionals and those at the start of their careers keen to develop in one of the following areas: sales, marketing, finance, information technology, human resources, legal or corporate affairs and communications. As well as an aptitude for your field of interest, it is recommended for you to have strong communication and interpersonal skills, including knowledge of English language, plus a familiarity with MS Office package.

JTI internship program has been designed for talented graduates and final-year students looking for a launching pad for their professional development. The program lasts from 6 to 12 months. This includes learning from like-minded professionals while assisting in real business projects.Ongoing coaching and support – provided by your line manager and facilitated by our HR team – will help you broaden your skills while on Internship program. It is about learning through team work and taking every opportunity for personal development. You will get a chance to learn much about business, marketing, and procedures in the multinational environment. Trainees are our key source of successful candidates for entry-level positions.

Our benefits package is a unique combination of career-enhancing initiatives, a great working culture and valuable financial benefits. In addition to ongoing training and development, you can expect an environment where people are recognized for their contribution. Pay for performance is one of the main principles of the Company. Benefits offered by JTI, on top of a regular salary, are very appealing. We also believe in a healthy balance between work and free time, and that is why we have organized yoga and dancing lessons for all our employees, two times per week after work. This is one of many new and extraordinary initiatives inside our company.

We want the very best trainees and employees, so our selection process will include various tests of candidates' abilities and knowledge depending on a desired position. Applications will be reviewed by the Human Resources specialist handling the recruitment and the Hiring Manager in order to evaluate the applicants' qualifications relative to position criteria. Candidates will pass a series of interviews consisting of interviews with an HR expert, potential line manager and head of department in order to assess the candidate's skills, experience and behavior as per JTI corporate competencies and to make the final selection for the posted position/program.
If you would like to be informed on the regular updates of job opportunities, please register in the careers section on www.jti.com and like our https://www.facebook.com/JTICareersSerbia page.


DOGAĐAJI
U subotu, 2. decembra, od 9:30, pridružite nam se na besplatnom seminaru "The Inner Game of Business – unutrašnja dinamika uspješnog... Više »

U subotu, 21. oktobra, od 9:30, pridružite nam se na besplatnom seminaru "Girl Boss Revolution – žene koje su preuzele kontrolu u... Više »

U subotu, 16. septembra, od 11:00, pridružite nam se na besplatnom seminaru "SEO Basic". Seminar se održava u Beograđanki, Masarikova... Više »
Advista je mlada i dinamična marketinška kompanija koja trenutno nudi digitalna rješenja na međunarodnim tržištima, uklj... Više »

Wiener Stadtische osiguranje a.d.o. Wiener Städtische osiguranje a.d.o. Beograd je član Vienna Insurance Group-e čiji p... Više »

Kompanija Telemach trenutno važi za vodećeg domaćeg provajdera digitalne i analogne kablovske televizije i usluge široko... Više »
Brzi intervjui sa najatraktivnijim poslodavcima u regionu na sajmu zapošljavanja LINK2job Drage koleginice i kolege, po... Više »

U subotu, 1. 10. 2022. godine, u organizaciji Centra za razvoj karijere, održano je finale Case Study Competitiona, jedi... Više »

Savez studenata Fakulteta organizacionih nauka, pod pokroviteljstvom Fakulteta organizacionih nauka, jedanaesti put po r... Više »
Citat dana
Znanje koje se ne dopunjuje svakog dana, smanjuje se svakog dana.
Kineska poslovica
Ne propustite obaveštenje o besplatnim seminarima!
Unesite Vaš e-mail i budite obavešteni o besplatnim seminarima, radionicama i drugim događajima koji vam mogu pomoći da nađete posao i razvijete svoju karijeru!